24/7 service and same-day reservation available
Flat fare plus any tolls (no hidden charges)
Multilingual, and corporate travel services are both available
24/7 service and same-day reservation available
Flat fare plus any tolls (no hidden charges)
Multilingual, and corporate travel services are both available
Customer's Reviews
Worked out fine
Everything went smoothly. THanks so much.
2023-09-05
Top notch
The service worked out very well. Overall, I was very happy with the quality of the vehicle. The driver was on time and waited patiently whi...
2022-09-07
Excellence in customer service
Always reliable, friendly service ! Wouldn't choose anyone else
2022-08-26
My only complains is if they can have more payment methods.
Good service and resonable rates
2022-08-23
All went smoothly.
No problem with the transfer
2022-08-17
Overall satisfied!
Excellent service, really flexible right up to the journey date and a lot cheaper than other airport shuttle services.
2022-09-16
Private Airport Transfer Hire Plan
Here is a list of prices for the most visited locations. For more details, please enter the zip code of your destination or contact us via the LINE application.
Please choose an area and plan
How To Book
STEP1. Book Online
We will finalize your order after 18:00 (Japanese time) the day before your ride.
You can book your taxi one day before your departure date and pay directly online.
Same-day applications (up to 5 hours before your ride) are accepted online and via LINE.
Please contact us via LINE for last-minute applications within 5 hours of your specified dispatch time.
STEP2. Meet up
Driver's information will be provided at least one hour prior to the appointment time.
If you need to contact us for any reason, please contact our call center. (Open hours: 8:00-23:00 / Japanese, English, and Chinese are available).
STEP3. Arrival
Our driver will be waiting for you at the designated meeting point.
Please relax and enjoy the ride.
Meeting Point at the Airport
For both Narita and Haneda airport, your driver will meet you at the taxi or private hire transfer car stand. However, as these waiting spots tend to be very crowded, he will contact you beforehand to confirm the exact meet-up area.
●For those who transfer directly from the airport to their accommodation
・Your private hire car will stop at the cab stand of each airport terminal and wait you there.
・Meeting directly at the arrival gate is available for an extra 2,000 JPY. Please let us know at the time of the booking.
・After arrival at the airport, processing time varies depending on the time of day and the airport.
International flights: 60 to 90 minutes.
Domestic flights: 30 to 60 minutes.
・The waiting time is free of charge up to 30 minutes.
We cannot be held responsible if you do not arrive on time for your reservation, or if you arrive early.
●For passengers going to the airport
・In most cases, boarding procedures begin approximately 3 hours prior to departure. During high seasons, we recommend that you book your reservations as soon as possible.
・If you are heading for the airport from any designated location, we offer 10 minutes of free waiting time service.
Advantages of using our Line Booking System
You can talk directly with our operators
You can ask our operators for things like the status of vehicles and even inquire about reservations from the comfort of smartphones. (Business hours: 8 a.m ~ 11 p.m)
Better and easier booking experience (My Page)
What we need is your personal information and a credit card when making the reservation. And all those can be done by using the My Page on the LINE app.
No download required
If you have LINE pre-installed, there is no need to download any other Apps.
How to reserve?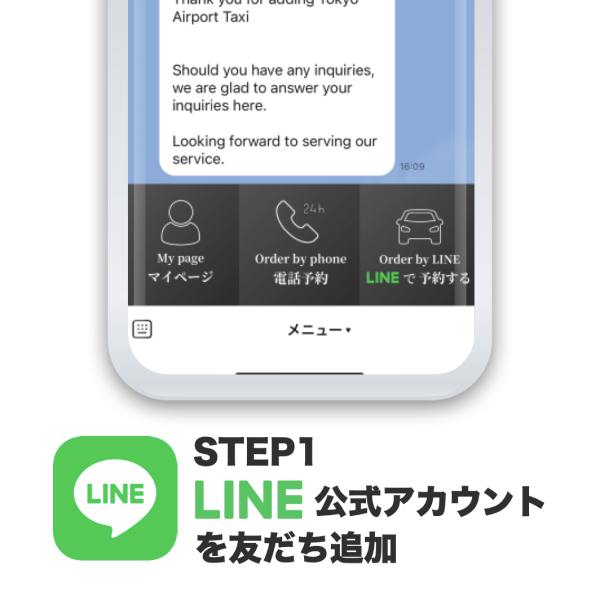 (1) Become our friends on the LINE Official Account
Input "Tokyo Airport Taxi" and search for our
official LINE account
. Become our followers and you can send us your inquiries from there.
(2) Create your one My Page, and register your personal information
You can add your phone number and email address in advance from My Page to make it easier to register.
※You can also make reservations without pre-registering.
(3) Make a reservation on the LINE app
Just input your pick-up location and destination, and you will be able to get a price estimate. The price includes parking fees, gasoline, and highway tow. No hidden or extra fees.
Sterilization
Daily disinfection
Vehicle is always disinfected before departure.
Temperature report
Driver's body temperature will be reported.
Masks Mandatory
Drivers wear and keep his mask throughout the trip.
Fixed Rate
Our flat rate includes all highway charges and taxes.
Multiple Language Support
Reservation assistance in English, Chinese and Japanese.
Book Anytime
Our services are available 24 hours a day.
Go Anywhere Without Infection Risk
Book Now
FAQ
What to do if I might be late?
From the airport: The driver will wait up to 30 minutes from the booking time. From any designated location: the free waiting time is 10 minutes. We request that our customers cancel their journey before 6 p.m. a day before the reservation, and cancellations made within the requested time frames are free of charge.
Are there additional charges?
As a rule, all prices are included in the price. There is no need to pay for expressway tolls or parking fees.
May I make the last minute change to my reservation?
We cannot accept any change of destination on the day of the tour due to the instructions of the Ministry of Health, Labor and Welfare
Please tell me the available payment methods.
You can use credit cards, Google Pay, or Apple Pay. For corporations, invoice payments and corporate card payments are also possible, so please feel free to inquire from the contact button in the menu bar.
I don't have a Japanese phone number, is that a problem?
Please do tell us that maybe you do not have a Japanese phone number that we can reach you to. In that case, we will notify you of the driver's phone number at least one hour before the pick-up time, so you can call him/her from a pay phone. If you have any other problems or concerns, please don't hesitate to contact us via our social media platforms.
How far in advance should I book my reservation?
We also accept same-day (Last minute) reservations. For same-day reservations, please understand that you may have to wait a little longer depending on the condition of traffic and the availability of cars.
Where will my driver meet me? Can the meeting point be places like Keisei Ueno Station or Tokyo City Air Terminal (T-CAT)?
Certainly! Feel free to choose those locations as the pick-up point.
You can enjoy a ride with your pets as long as they are in a kennel or a carrier, and pose no threat to our drivers. The best part is that there'll be no additional fees.
Do you track my flight to adjust the pick-up time?
Unfortunately, we do not track your flight to adjust your pick-up time.